"Holy Infant of Good Health"
 U.S. Traveling Pilgrim Statue
is housed at the
 Shrine of the Holy Infant of Good Health in Mississippi.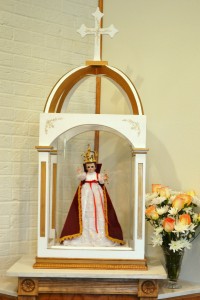 Our Mission when traveling with the Pilgrim Statue is to deepen the awareness of the love and mercy Our Lord has for each of us.  We encourage everyone to approach Him as little children trusting and knowing that He will answer our prayers according to what is best for each of us according to God's will, but most of all, realizing and believing that He will give us the courage and strength we need and be with us to carry our cross daily.
On November 10, 1999, the statue of the Holy Infant housed in the Chapel was taken
to Morelia, Mexico, and blessed by Bishop Estanislao Alcaraz to become the Traveling
Pilgrim Statue for the United States.  Due to Hurricane Katrina, in April of 2006,
Archbishop Alberto Suarez Inda, of Morelia, blessed the Image that is now housed in the
Shrine.
The Pilgrim Statue has visited many parishes in several states through the years.
Many of these visits included giving presentations to school children in these parishes.
During these visits presentations are given.  Parishioners are invited to come pray in
the presence of the Holy Infant of Good Health image.   The Missionaries of the
Holy Infant Jesus of Good Health Sisters will be available to pray with those who would
like prayer.  The length of the visit for the day depends upon what is best for each parish.
Each parish is special, working together to make the Holy Infant's visit a spiritual
and memorable experience.   If you would like the Pilgrim Statue of the Holy Infant to
visit your Parish, please contact us.