R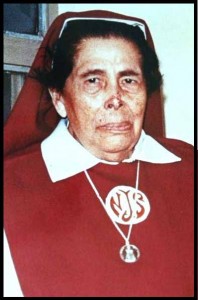 osa Maria Guadalupe "Lupita" Calderon was born on August 30, 1910 in Morelia, Mexico.  Her parents were Felipe Calderon and Eleuteria Castaneda.  She was the youngest of three children of a very poor family.  Lupita was a generous, humble and joyful girl, although she suffered physical illness most of the time.  By this experience, Lupita was compassionate to the sufferings of people.  Without realizing, she spent her life living the virtues of Jesus' Infancy, serving anybody who was in need in her neighborhood.
When Lupita received her first Holy Communion, she expressed to her godmother the desire to have a statue of the Infant Jesus.  For many years, her godmother searched for that special image.
Lupita studied in Anahuac College in Morelia, and studied art and clothes making.  After her graduation, in her early twenties, Lupita lived and worked in Mexico City for a few years to help support her family.  In Mexico City, Lupita had a religious experience while living with the order of Veronica's nuns.
On November 12, 1939, Lupita received from her godmother a beautiful image of the Infant Jesus and was called by God to spread a new devotion.  That was an unforgettable date for her, because she finally received the special image she had always desired.  Lupita knew in her heart God was giving her a very special mission.
In 1957, Lupita met Estela, a lady from Laredo, TX, who had heard about the devotion to the Holy Infant of Good Health.  Estela and Lupita became good friends, but they never thought the love of Jesus would unite them in a very special mission.
In the early sixties, Lupita received another beautiful mission.  She was inspired by God to help poor children by providing housing, clothing, and food for them.  She communicated this to Estela, who joyfully supported the project.  This was the start of an orphanage for children in their home.
In July, 1966, she received from God a calling to establish a women's religious order.  With the help and support of Estela, they planned to start formation of a new congregation.
On November 12, 1970, Lupita, Estela, and seven other women made their final vows as religious sisters.  Mother Lupita was the first teacher of novices and the treasurer in her congregation.  Lupita died on July 23, 1989 in Morelia, Mexico.